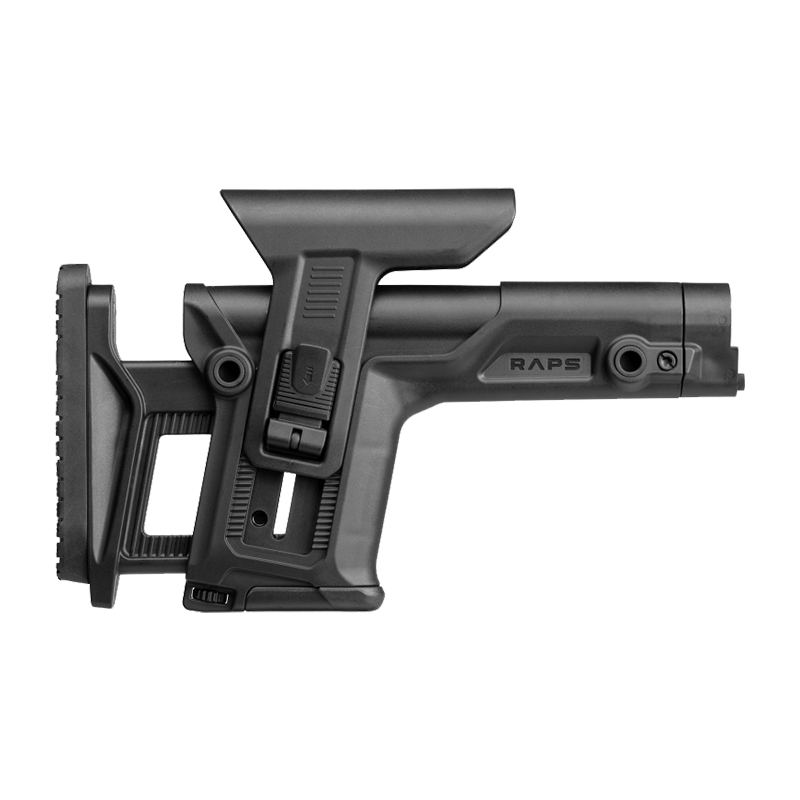 FAB DEFENSE RAPID ADJUSTMENT PRECISION STOCK
SKU:
Description
The new and innovative Rapid Adjustable Precision Stock (RAPS), designed with the precision shooter in mind.
The RAPS incorporates the necessary features for a precision stock. Integrated Cheek Rest and Adjustable Length Of Pull but also benefits from easy manipulation, reduced weight, and cutting edge features and materials.
The RAPS is built to enable any shooter to engage their target from any position, in a quick and precise manner.
The RAPS allows for a wide range of one-handed adjustments so that you can keep your eyes downrange using the patent-pending 1Latch™ system, the first of its kind with a memory feature, that returns the adjustable LOP to its pre-set position.
RAPS also features an integrated Cheek Rest with a height adjustment of up to +42mm and a generous non-slip rubber butt-pad with 10mm of height adjustment.
The RAPS will withstand years of hard use, under adverse conditions, from the battlefield to long-range matches, the RAPS stock will help you get the job done!
FEATURES:
Integrated Cheek Rest & adjustable Length Of Pull (LOP)
Patent-pending 1Latch system locks both LOP and Cheek Rest height with one lever
1Latch system can be configured for right or left-hand shooters
New LOP memory feature, set it once and the adjustable butt-pad will spring out to the same length every time
LOP Adjustment Range: 32mm (1.26")
Integrated Cheek Rest, adjustment range; 42mm (1.65")
Adjustable LOP, on AR10 from 378mm to 410mm (14.8"-16.14")
Concealed Picatinny rail at the bottom of the stock for use with a monopod
Heavy-duty, rubber butt-pad with height adjustment
The RAPS includes one pre-installed adapter for rifle-length receiver extension tube and two additional adapters for MIL-SPEC Carbine tubes (one for M4 type receivers and one universal)
Easy installation, no gunsmith required